Financing

Making Even the Most Complicated Visions Attainable.

Like our ability to bring our clients' dreams to reality, Platinum Development also has the flexibility to put even the most complicated visions within reach. Our thorough review of your building project can enable us to make recommendations that can save you time and money.

Below, we've provided a brief introduction to the common financing considerations when building a custom home. As a courtesy, we've also provided links to some lenders that our clients have worked with in the past.

Rest assured, we're infinitely flexible. No matter whom you choose to finance your new home, we'll work with you and your lender to make it a reality...
---
In most instances, a custom home is financed through a construction loan.
What is a construction loan and how does it work?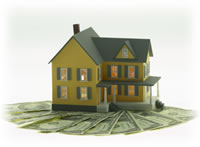 A construction loan is based on the home's projected "completed value." A lender typically requires information on the property, such as a parcel id#, some type of survey, and information pertaining to the proposed home, such as plans and specs, so that an appraisal can be done, and the home's completed value estimated. The lender will then determine the loan's maximum amount based on this appraisal, and other factors, such as income, debts, down payment amount, etc.
A construction loan operates on draws, meaning after a certain amount of work has been done, the builder submits a draw request to the lender. In most instances, the lender will verify that the work has in fact been done (a site inspection), and the title company verifies no liens have been placed on the property before approving release of the funds for that draw. One average, we submit 5 or 6 draw requests per home.
Upon completion of the project, generally after we've obtained the Certificate of Occupancy, the construction loan is either, depending on the lender:
rolled-into the permanent loan, or
paid-off at the end loan's closing
Generally, our clients procure their own financing. Thus, we work with any lender a customer chooses. Some of the local lenders which have financed projects for our clients are: