If you don't have a lot and/or plans
If you don't have a lot…
We can help you in your search for a lot. Just let us know the specific areas you're interested in.

We'll also need to know any features which are of importance to you, such as the site must be able to accommodate a walk-out, the school system the lot must be in, etc.
If you don't have plans…
We can help you in either: custom-designing a home from scratch, or finding the right pre-drawn set of plans (also known as "stock plans").

Helpful items to be collecting:

pictures from magazines, books, and/or brochures of features you like
–

pictures of houses you've seen which appeal to you; maybe you've been out driving around looking for property and have seen homes you like; take pictures of these
–
floor plans you've seen which meet your needs; if you find a floor plan which works for you, but the front elevation, for example, isn't to your liking, it can be changed. If it's missing a basement plan (some "stock" plans are drawn in other parts of the country which do not require a basement), that too, can be added.
---
New Home Planning Guide - the Ideal Path to Take
Depicted in the flowchart below is the ideal path we recommend those considering building a custom home take. Each step in the process has a detailed explanation of why that step should be taken at that juncture; just click on the steps to learn more.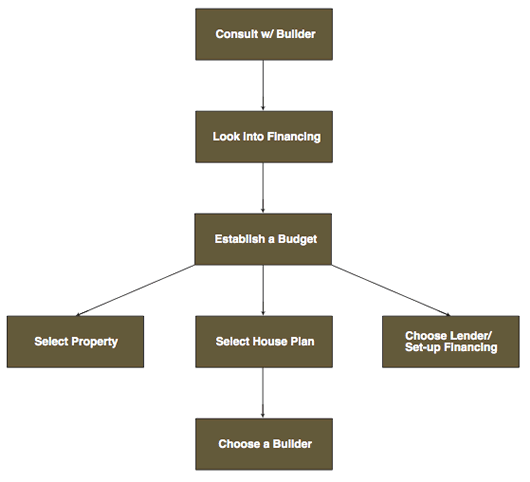 Click here for a printable version of the "New Home Planning Guide" (PDF)
---
Whatever stage you may be at, we suggest breaking-down your priorities into the following three categories:
Absolutely must have
Would like to have, but don't absolutely have to have
Here are a few examples:
–

The deed restrictions for our lot specify we must have brick on the front elevation and the first 3' on all other sides, but siding is acceptable everywhere else. We would like brick on the entire exterior, but realize it will significantly add to the cost, so, being conscious of our budget, we'll go with the siding where permitted.
–
We would like granite in the Kitchen, Laundry Room, and all bathrooms, but again, knowing that granite is significantly more costly than laminate, we'll go with granite in the Kitchen and Master Bathroom only, and laminate everywhere else. We'll allocate that extra money somewhere else in our budget.
–
We'd like a fireplace in both the Great Room and the Master Bedroom. Since homes with fireplaces have a better re-sale value than ones without, we'll go with a fireplace in the Great Room, but not in the Master Bedroom; we'll save that money for something else.
–

Our budget really can't accommodate right now, but would like to possibly do in the future
Here are a few examples:
–

Although it doesn't fit into our budget right now, we'd like to finish the basement at some point in the future. So, we'll have the Builder install the rough-in-plumbing (refers to the drain lines) in the basement, for a future bathroom. This facilitates the installation of the plumbing upon finishing the basement, thus avoiding breaking-up concrete.
–
If your budget is tight, interior trim upgrades are a good feature to reserve for the future. They generally doesn't require any special preparation, and can thus be easily added down the road. Crown molding, wainscoting, coffered ceilings, etc. are all good examples of this.
Click here for a FREE home design worksheet
---
The Construction Process...
Below is a slideshow of the entire construction process in photos. The slideshow requires Adobe Flash Player 7.